Boeing 737
This is the first charter Boeing 737 of a serie of 3 that we're handling from China,
destined to Lombardia.
It's carrying FFP2 masks and safety goggles, that must be
necessarily packed into carton boxes.
During this emergency, lots of flights have
been adapted to have cargo stowed both into cargo load and in the areas usually
reserved for passengers.
As Mattei said "Brilliance is to see a possibility where
nobody else can".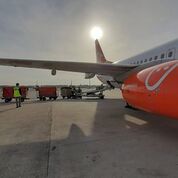 Boeing 747
Boeing 747
We've handled another charter flight with 250.000 protective suits and 1,5 millionmasks on board, destined to Emilia Romagna. In the pictures you can see all thesteps of this job: the loading operations of a Boeing 747 in China, the landing atMalpensa airport and the loading of our truck for the final delivery.We never stop!!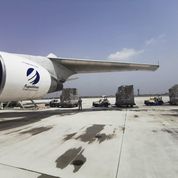 Ilyushin Il-76
Ilyushin Il-76
These pictures show the loading operations of an Ilyushin Il 76 in Tianjin.
It was a charter flight destined to hospitals and health facilities in Emilia Romagna.
The flight landed in Malpensa airport on Easter night and was fast unloaded at 3 am. On
Tuesday we have brought all cargo from airport to our warehouse in Castellanza to
clear the customs, then we delivered it within the same day.
We're talking about 1.524.000 face masks FFP2 type. This was a well done job. Thanks to our staff for
having hand led this particular operation during holidays, proving to be real
professionals. Our abilities are at your company's service.